What do you get when…
2 Veteran Marketers Collaborate
On The Greatest Work Of Their Careers?
You Make Great Money!
The Amazing Traffic Vortex funnel converts your prospects into buyers and, most importantly, REPEAT buyers!
Featuring a deep, profitable product line of workshops, master classes, and memberships from entry to high-level.
Designed for conversion, monitored and tested for increases at every touch point.
"The Amazing Traffic Vortex marketing funnel is an easy promo to get behind.  We're using the latest in funnel conversion technology, which means high converting, profitable campaigns!"  -Jack Humphrey, Associate Dean
The flow….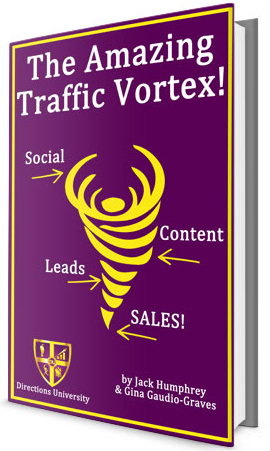 The Amazing Traffic Vortex Guide (ATV) – www.askggg.com/atv
This free Guide is about 25 pages long and walks the reader through applying the Vortex Model of doing business. It will help them to craft their Vortex, convert it into a Profit Funnel, and then plan their Editorial Calendar.
Bottom Line:  When applied, it WILL drive traffic and raise conversions for everyone!  (Which means huge feedback and testimonials and viral-optins.)
It includes:
First Product:
The Guide, the Thank You Page, and the Autoresponder Sequence then lead folks to a $7 product which pays you 100% INSTANT Commissions
This Product is an 83 minute webinar and audio Lesson 6 of MTP which is a video & audio training on crafting your Vortex.
Second Product:
The Autoresponder Sequence and the Immediate Upsell to the $7 product take you to purchase MTP with a true one-time offer of $147 LIFETIME ACCESS (instead of a $147 annual tuition) and it pays a 50% commission.
This is exactly the package that you'll find at www.askggg.com/mtp except that you only pay once for life instead of either $147 per year or thru the Exit Pop $14.95 per month.
Product 3:
A $997 Upsell that contains all 7 of the DU Master Classes in recorded format plus ALL FUTURE LIVE Master Classes for LIFE! This will pay a 40% commission.
Your Tools, Emails and Graphics…
DOWNLOAD a zip file that contains 3 emails and a few graphics that you can use to promote the ATV Funnel.
Your Affiliate Link Will Be —> https://www.askggg.com/a/Prod177_a_XXX.html (Just replace the "XXX" with your affiliate id.)
Need your affiliate ID?  Go here:  https:/www.askggg.com/a/JVHome.html  You can also get the banners and emails in the above zip file directly in your affiliate area.
Feedback is Phenomenal..
The feedback we've been getting on ATV and MTP has been INCREDIBLE! Here's what people have said about the MTP Trainings and "Hug Seat" calls:
"These calls are some of my MOST valuable times of learning, growth, interaction w/ like-minds, and 'AHA' enjoyment!" …
"Orgasmic!" …
"It was really amazing to see the expansiveness of the leverage available using this Model!" …
"I have access to the best of the best." 
"DU is always out in front giving us the competitive edge." …
"We have the best resources here!"
"MTP is teaching me to Become the 'GoTo' Hub of your industry – You do that through becoming the master of your space and a resource that EVERYONE in your space and complementary spaces want to connect with, glean from, emulate, and share with others."
And about a thousand more just like these! Are you starting to see why we are SO EXCITED about ATV and MTP?
Jack and Gina are available to do TRAINING Webinars with your people!
At the end, we can simply give them the ATV Guide as a gift. No pitch whatsoever!
Conversion So Far (Improving every day as we tweak!)
That funnel is converting at crazy good levels!
30%+ opt in rate
8% conversion on the $7 offer
22% conversion on the MTP $147 backend
We're expecting at least a 15% conversion on the $997 backend, helping to make the value per click even higher!
The back end value per lead is HUGE!
We're seeing about 20% of those going through MTP purchasing at least 1 DU course in the first 20 lessons (they get exposed to 7 of them by the end of the 40+ Lessons). Each sale of one of our 7 worskhops and master classes is worth $98.80 in your pocket!
Not bad for sending just a handful of customers, right?
Why not…
Host a TRAINING webinar with Jack & Gina?
Promote ATV through 2 or 3 emails to your entire list?
Include a 1 month, 3 month, or 12 month trial of MTP with every product you sell?
Or better still, do all 3 and massively improve your lifetime value per customer!
Contact us at duteam @ directionsu.com with questions or to set up a webinar or interview with us to help you sell more!
THANK YOU!  We LOVE our affiliates and JV partners!
-Gina Gaudio Graves and Jack Humphrey