"To-Do Today!
The Creative Genius Guide to Getting Stuff Done"
Time. It's our most important resource. Each day, you have 86,400 seconds to "get stuff done". Now imagine for a moment that each of those seconds is a $1 bill, and each second, your $1 bill goes on one of two piles – the Productive pile and the Unproductive pile.
Now ask yourself "Which pile is bigger?"
At the end of the day, a big truck comes and takes the piles away, leaving you with another 86,400 seconds for the next day. Money and people come and go, but time only goes. You cannot go into the past. You cannot reclaim lost time.
But you CAN do things differently – starting now. If you're like most creative people, you've tried planners and daytimers, the sticky note and notebook method, whiteboard, mindmaps and gadgets galore.
The truth is, all of those things work, but only when you have a consistent SYSTEM for mastering your time.
To-Do Today is the system that Stephanie has personally used for over 20 years. It is the system that has allowed her to write over 20 books, create valuable performance and productivity courses, build several companies and enjoy a life full of love and balance.
Here's what you will learn:
Powerful, practical systems for creative Time mastery
How to end the cycle of being late and frantic all the time
The secret to never forgetting your appointments again
Why we compulsively over-promise and over-commit–and how to stop
How to "bend time" to get more done and make more money
How to get to the bottom of your to-do list… every day
What to do when "daily planners" don't work for you
The single thing that ALL successful people do (change this one thing for massive results)
And more…much more …
When you put the To-Do Today system to work for you – even if you've never been successful in mastering time – you will find things moving forward like never before. By mastering time:
You automatically become 100% more productive
Your to-do list becomes your friend
You create time to do the fun things in life
You are free from the drudgery of "have to"
You can put your energy into tasks and projects you love
You can finally FINISH those projects that you haven't had time for
You will be laser focused on achieving your goals
Get ready to create a surge of momentum, put projects on hyper speed and finally have a workable system for your time management success.

"Within 3 short weeks of implementing Stephanie's fun and easy time mastery system, I doubled my income and tripled my client base."
-Sage Lewis, DancingPorcupine.com

"I finished a project in 17 minutes that I'd been trying to finish for 6 months. The next day, it launched and we had a 6 figure day."
– Russell Brunson, Dot Com Secrets

"I went from working 7 days and week and almost killing myself to having 4 day weekends every week. Oh, and my income doubled too!" – Gina Gaudio-Graves, Directions University
Now is the time for you to kick your life into high gear by mastering the single most important resource you have – time. Sign up today for
To-Do Today! The Creative Genius Guide to Getting Stuff Done
. You Get:
Step by Step To-Do Today System
Step 1 – Get Out of Overwhelm
Step 2 – Reclaim Your Calendar
Step 3 – Organize and Prioritize
Step 4 – Put It All Together
3.5 hours of Self Paced Video Training
Organizing Tools in downloadable format (so you can use them often)
The secret "get it done" decision making flowchart that works every time
This jam packed home study course is only $97 and it can be in your hands in minutes!

"Using just one of the principles in this system, we tripled our income and were able to take on a lot more projects" – Ron Davies, ProfitMart
    Please be sure to check the "Yes!" box below if you want to receive the special price!
I understand that I will get immediate access to the instantly downloadable ebook, audios, videos and worksheets as soon as I press "order now" with no further delay. I also understand that this price won't stay this low forever, and I may not be able to return here or receive the special discount later if I decide to leave the page now.
I understand I am receiving an "Ironclad Money Back Guarantee": It's simple: if after faithfully applying the ideas in this program to your own life you are not able to increase your productivity by at least 40% and reclaim more time to do more fun things in your life we will gladly give you your money back.

"If you want the street smart secrets to mastering the wealth game – get Stephanie Frank!
T. Harv Eker, #1 New York Times Best Selling Author, "Secrets of the Millionaire Mind"
BONUS: Free Book and Over 30 Downloadable Tools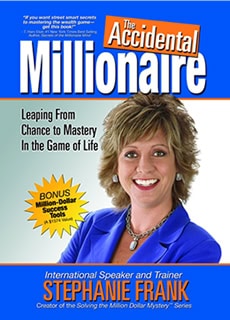 When you enroll in "ToDo Today", you will also get the digital version of Stephanie's Bestselling "Accidental Millionaire." This book showcases the mindset and methods needed to master yourself, your behaviors and your work, and includes over 30 downloadable tools and checklists to support the system. (A $1,574 Value) "The Accidental Millionaire" outlines the four principles of business success that are required for any business to thrive, and is a must-read for every small business owner. Even if you're only thinking about starting a business or work for someone else, the ideas in this book will get you thinking differently – and getting very different results with your lifestyle. Read and learn as she gives you the insider scoop – the blueprint, strategies, secrets and "Frank" truth for what it REALLY takes to achieve personal happiness and success … break through barriers … and become the powerful leader of your life. You will laugh, you will cry – but most of all, you will be inspired to take action! This book provides a practical business success blueprint that shows:
How to make the RIGHT decisions in your life – every time!
Secrets to building a world class business on a shoestring budget
The simple formula for TOTAL FOCUS to effortlessly achieve your goals
How to be productive 100% of the time
The single most important money mastery technique you MUST know
The Four Powerful Principles of Business Mastery
How to stop sabotaging your own financial success
Practical techniques to duplicate yourself and double your profits
And much, much more!
You get all this, the bestselling book plus 30 downloadable tools and checklists to support you and achieving the level of success you know you're capable of. Sign up now…
To Your Abundant Online Success!

Gina Gaudio-Graves
Dean & Founder, Directions University.