Thank You for Requesting "The Amazing Traffic Vortex!"
If you "get" this Vortex thing, you're going to be getting a lot of traffic very soon. To grab the guide, just go to: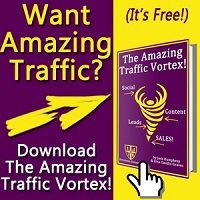 And when you're ready to move on up the Leverage and Authority scale with your business, we're always here for you:
To Your Abundant Success!
Jack Humphrey (The Web-Bender) & Gina Gaudio-Graves (The JV Queen) Directions University
PS – We'll be sending you some tips to help you with what you learn in ATV so that you can implement as effectively as possible. It's no good if you don't apply it, so, anything we can do to help you out, we'll do it!