Are you struggling to get traffic?
Are you getting traffic that just doesn't convert?
Is creating content to drive traffic keeping you stuck?
Here's an article that I just posted on Google+ that explains the problem and the solution in much greater detail…
If you read the entire article and still haven't downloaded "The Amazing Traffic Vortex Guide", now's the time to do it!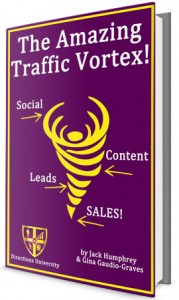 Apply EVERYTHING you learn in the Guide asap!  It will help you:
Focus
Drive Moire Traffic
Improve Conversions (and therefore SALES!)
Make a deeper, more meaningful impact on your customers' lives!
AND — Make your life SO MUCH easier!
What is your biggest problem when it comes to "traffic"?  Is it getting traffic? Converting traffic?  Doing the things required to get traffic?  Or something else?
Let us know in your comments!  Just click the "Comment Bubble" at the bottom of the embedded post above and your comment will appear here on this post AND on Google+ at the same time!
To Your Abundant Traffic Success!
Gina Gaudio-Graves
"The JV Queen"
Dean & Founder, Directions University
P.S. – the guide covers social media and content marketing, leverage and re-purposing, and how to get all the search results you want,  all the targeted traffic you want, and all the leads and sales you can handle. How's that for a promise?
See for yourself if the guide even comes close to the promise. We Dare ya! 🙂