This is the Ultimate Guide to getting circled by more Google Plus people and growing your reach exponentially fast!
If you want to start growing your personal Google Plus profile or your business page like this: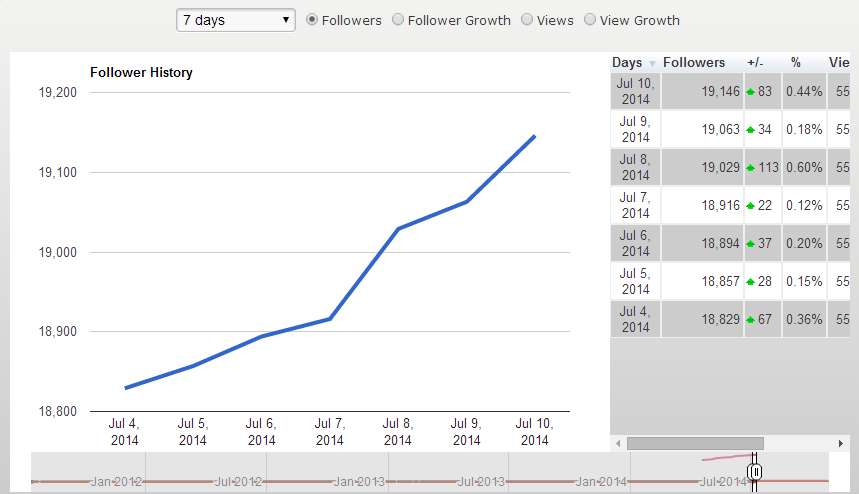 …then follow the 10 easy tips below and you'll be on your way to Ultimate Plussdom!
Step 2:  Share Your Google+ Posts on Other Social Media – Bring Your Friends Over! 
Step 3:  Shared Circles
Simply by ADDING a shared circle to your circles, you'll get a lot of people following you (Circling you) back.  
Go to G+ and in the search box type "shared circles _____" and use your best keyword for the types of people you're looking to engage with.
But, if you follow the instructions on a shared circle post, your profile link can go viral on the back of a very popular shared circle "meme."  That's when the BIG circles starting flowing!
Example:
Step 5:  

Add A Large Image To Your Post
Big pictures get BIG notice, Big Time!  If you stick out on Google Plus, you get more people finding and circling you.  Here's how to add a large image to your G+ posts:
Step 6:  Start Building Your "Author Rank"
Having a healthy Author Rank is like having a V.I.P. pass into more Google search rankings and showing up in front of more G+ peeps.  Here's how you do it:
Step 7:  Build Your Following By Simply WATCHING Google Hangouts (Not Kidding!)
You read that correctly!  Just joining and participating in, or just watching, Google Hangouts can build your following tremdously.  Once again, +Rick Eliason shows you how…
Step 8:  Get to know +CircleCount.  
Here's a GREAT tutorial by +Rusty Ferguson on one of the MANY ways CircleCount.com can become your friend in gaining a much bigger, healthier Google Plus Following…
Step 9:  Using "Ripples" to your advantage.  
Step 10:  Get 40 more awesome tips on +Denis Labelle's guide to Google Plus, a wrap-up of all 50 of +Rick Eliason's great tips…
Extra Credit:  Follow these peeps on Google+ if you want to keep up on what it takes to be a Google Plus Boss!
+DirectionsU +Jack Humphrey +Rick Eliason +Denis Labelle and +Rusty Ferguson (Oh, and +CircleCount!)