I can hardly believe that another year is underway!  It seems like just yesterday that we were starting 2015.  And I blinked, and here we are beginning 2016 already!
This week is probably the most important week of the year!
What is your Vision for 2016?
What are your goals for 2016?
How will you make 2016 your best year EVER?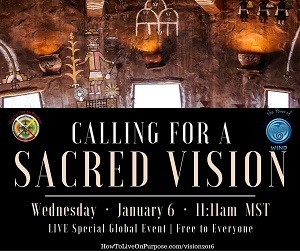 A few weeks ago, I was having a conversation about these exact questions with my dear friends, Chief Robert & Terri TallTree, the Deans of Directions University's School of Personal Success.
We were reminiscing about a call they did for me and DU Associate Dean, Jack Humphrey, at the end of 2014 that produced the biggest ah ha moment either of us had ever had!  That "Ah Ha" moment was really about these exact questions.
Robert & Terri offered to do a call for YOU this year to help you answer these questions for yourself!
They are hosting a VERY SPECIAL Event on Wed. Jan. 6th to help you get your new year off to a fantastic start!
If you've been looking for guidance and direction to live on purpose, make sure you join us for this Global Event!
http://www.HowToLiveOnPurpose.com/vision2016
Use this opportunity to:
*  Gain clarity about your highest calling
*  Become illuminated about your personal opportunities for 2016
*  Discover what to focus on in the New Year to receive support from forces both seen and unseen
There is no cost to attend.  Just come prepared and open to receive!
Here's to making 2016 your best year EVER!
To Your Abundant Success in 2016 & Beyond!
Gina Gaudio-Graves
"The JV Queen"
Dean & Founder, DirectionsUniversity.com
Co-Founder, DUvisio.com
P.S.  We've extended the DU/DUvisio Holiday Special until January 15th, 2016!  You have until then to lock in the special holiday savings on not just one but TWO separate Holiday Specials!
Special #1 from DUvisio.com – the Affiliate Network For People in ALL Niches —
Get your 1% discount on your transaction fees for the entire year AND get upgraded to the Enterprise Membership that will give you access to:
* The InstaJV Funnel System (to help you attract JV Partners)
* Embedded Payments (to increase your sa'les 14% to 21%)
* Private & Custom Marketplaces that each contain an RSS feed (to make them more useable in your marketing)
* and MUCH more!  
It's waiting for you now at:
Special #2 from DirectionsUniversity.com —
At DU, we're celebrating with a SUPER special offer to get ALL of the DU Master Classes for just a one time $97!  
With 6 Master Classes that each contain over 16 to 20+ hours of top-notch education and training, you'll stay busy all year learning more about how to grow your business!  (Regularly $247 each or $1,482 for all 6 of them this is our lowest t uition EVER!)  You can grab it now at: