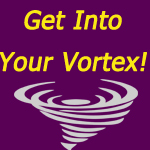 There is no shortage of comparisons between Abraham-Hicks "Getting Into The Vortex" Law of Attraction principles and Directions University's Vortex Model of Business.
The Vortex Model of Doing Business is the practical application (the "Inspired Action") of manifesting for lifestyle business owners.
Abraham says "When you ask it is given – but at some point you have to stop asking and start expecting."  
Our version of that "expecting" is putting together a Vortex plan for our ideal life, business, and service and then placing into it everything required for you to Rock at life!  To have and do everything you've ever dreamed supported by a profitable business that opens the door to the money required to support your ideal life.
Although money can come from anywhere, and we should expect it to be so, Abraham also reminds us that when we take inspired action (through our business and how we serve others) we can speed up what we manifest from our Vortex.
That's what we're doing here at Directions University.  
Massive, blissful, leveraged and inspired action by thousands of students who are co-creating inside Motivation to Profit and the Bachelors Program.
We do what "feels good" and leave the "work" behind.  If you feel like you're working and working in your business with little results, well, we know why that is.
And so does Abraham:
"Take the time to line up the Energy first, and action becomes inconsequential. If you don't take the time to line up the Energy, if you don't find the feeling place of what you're looking for, not enough action in the world will make any difference."
This is precisely why we start Motivation to Profit and Bachelors with Mindset Training.  
We know from experience that what Abraham says above is true.  You even know it is true, deep down, when you feel like no matter how hard you work in your internet business, you can't make much (or anything) happen!
Getting your energy right, followed by leveraged, inspired action on the RIGHT things for your business is the ultimate way of building a Lifestyle instead of building a business!
Helpful Links